4 Lessons from 3 Kings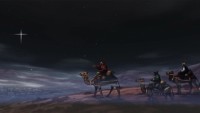 Did the gift givers to baby Jesus come as kings from Africa, Asia and Europe? Possibly!
This thought pleases me for it captures a gathering of three kings from three continents - the first and only time (so far) the world united to worship the King. (See also Psalm 72:10 & Isaiah 60:3)
The origins of these unnamed worshippers are as unclear as their guidance was clear. Their home is as unknown as their identity. Conjectures offer only tantalising satisfactions, but seek the Lord they surely did.
These faceless men are now honored forever, simply because they sought Jesus.
LESSON 1: All those who seek to worship Jesus have their name added forever to the Book of Life.
For 2000 years this trek to the infant Jesus has been proclaimed and acclaimed. Non-Jews seeking a Jew to worship Him - this remains noteworthy.
These men (as with all men) were living a destiny to death until they found Jesus. God made it easy to search Jesus. God wanted Him found by these men. They followed a star.
LESSON 2: The search for Jesus is still easy. He never hides.
With all the propriety and dignity of royalty they gave treasures and not trinkets to God now on earth. This is correct worship.
LESSON 3: Disciples do not 'tip' Jesus, they 'treasure' Him.
And having been warned in a dream not to go back to Herod, they returned to their country by another route. (Matthew 2:12)
After meeting and giving to Jesus, God will always reveal better ways for the disciple to travel. When they meet with Jesus He will always change their paths.
LESSON 4: None can meet with Jesus, worship Him in love and truth without having their life's directions changed.
Today's Soul Snippet:
"Christmas is a celebration lived between its Creator's intent and the worlds' opinions". ~ Michael Cartwright
Permission is granted (and you are also encouraged) to reprint SoulSnacks in hard copy form, using them for Bible Studies or other Christian forums, as well as sending them to your own email lists and posting them on your own websites. SoulSupply asks only that you keep the SoulSupply website and email contact information intact.
Love this SoulSnack? - PLEASE take a moment and share it with a friend. Would you like to subscribe for free SoulSnacks either weekly or each workday?