4 Easy Steps to Defeat Sin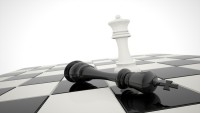 Soul Snack 219/14 ... Sin to the Christian mirrors communism to democracy - destruction!
Sin that is present refuses to be ignored.
Destroying the enemy 101:
Take up a position to attack sin. This is DEVOTION.
Move the heart heavenward and if unknown invite the Holy Spirit to reveal your sin to you. This is PRAYER.
Put sin to the sword. This is CONFESSION.
Annihilate sin by not repeating it. This is OBEDIENCE. (NB - Sin that is persistent, requires just that -persistence. BUT some besetting sin may require deeper prayer, even deliverance ministry.)
Neglect is sin's best friend - hell's easiest invitation. To dally with sin is to court the devil.
To defeat sin is to dwell with the Lord. Whose company do you really wish to keep?
The ability to distinguish good from evil resides in the mature heart tuned to righteousness.
Count yourself dead to sin but alive to Christ Jesus. Therefore do not let sin reign in your mortal bodies... (Romans 6:11-12)
While-ever you do battle with sin you are winning, to not even enter the battle guarantees loss.
Hmmm ... could a spiritual indifference to tackle sin be even worse than the sin itself?
Today's Soul Snippet:
"Do not have your concert first, and then tune your instrument afterwards. Begin the day with the Word of God and prayer, and get first of all into harmony with Him." ~ Hudson Taylor
Love this SoulSnack - PLEASE don't keep it to yourself? Would you like to subscribe for free SoulSnacks either weekly or each workday?