5 Dawn Prayers ~ Day 5 - DISCERNING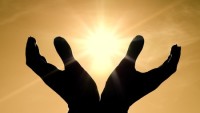 Search me, God, and know my heart; test me and know my anxious thoughts. (Psalm 139:23)
My Father it is my joy to rise with You each dawn, to gather your manna and fetch Your supply alone. My soul is thankful that You have delivered me yet again to this humble place of peace, where I also find I am still too skilled at sin. This day seal my heart that it is as Yours, it must hold Your discernments of me and this world; only then can I live in Your pure truth and navigate my day aright towards Your glory - not mine. Replace my bellowing carnal desires with spiritual ambition; that I may walk in Your blessing and receive what is on Your heart for me. Discern in me the world's favors I seek that steal the favors of You from me. O Lord that I would finally be lost to the thirsts of this earth by only drinking from Your wells. AMEN
Man makes no request of God, constructs no penitent prayer or forms any plea for grace upon a platform of merit, but rather upon the sure Divine foundation of His great mercy and His faithfulness alone to His promises.
But who can discern their own errors? Forgive my hidden faults. Keep your servant also from wilful sins; may they not rule over me. Then I will be blameless, innocent of great sin. (Psalm 19:13-14)
Today's Soul Snippet:
"When a Christian defends sin they betray their distance from God's throne." ~ Michael Cartwright
Love this SoulSnack - PLEASE don't keep it to yourself? Would you like to subscribe for free SoulSnacks either weekly or each workday?
ENJOY ~ Day 1 - Kindling, Day 2 - Fetching, Day 3 - Shrinking, Day 4 - Mourning