5 Righteous Diamonds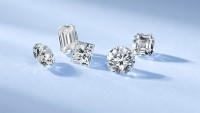 Jesus was just an apprentice at public ministry, yet hectic crowds already gathered around Him. So Jesus withdrew to a mountainside. There His equally new disciples approached. Our good Lord then fed His babes the blessings of pursuing righteousness. (see Matthew 5:1-11)
In so doing Jesus sought to plant the strongest of spiritual trees.
(NOTE: Jesus had just called the disciples. At the top of their curriculum Jesus had penned must show them this diamond of righteousness.)
To this day such Divine favor reigns for His disciples, and rains over His disciples.
Blessed are those who hunger and thirst for righteousness, for they will be filled... Blessed are those who are persecuted because of righteousness, for theirs is the kingdom of heaven. (Matthew 5:6 & 10)
Diamonds glitter, are valuable and last. May these five 'diamonds' be so too for you:
Righteousness is placing the good of another above any personal advantage.
The evidence of righteousness is the distaste for sin.
The righteous life pens no treaty with sin.
Righteousness is a path to walk upon, not a laurel to wear.
Righteousness is the pedestal to love as truth is the pedestal to worship.
Oh - what untold joy to carry the title:
Today's Soul Snippet:
"The word of God is always most precious to the man who most lives upon it." ~ Charles Haddon Spurgeon
Love this SoulSnack? - PLEASE feel free to share it with a friend, post it on a blog page, on a website or share it on social media.
Would you too like to subscribe for free SoulSnacks either weekly or each workday?