9 Differences Between Jesus' Two Arrivals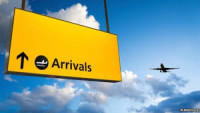 This sign is read every day, and everywhere at every airport. Consider the joy for those who wait when a loved returns. The heart leaps, the eyes well and arms are flung wide.
Christmas celebrates Jesus has arrived and yet He is arriving again.
Consider the first eight marked differences between His two appearances on earth:
1st time - only 1 star in the sky points to Him
2nd time - all the stars will fall for Him.

1st time - no room for Him on earth
2nd time - all the room of the universe is His

1st time - only a few will worship Him
2nd time - all will bow down before Him

1st time - came in humility
2nd time - comes in glory

1st time - came for peace and joy
2nd time - comes in punishment and judgement

1st time - defeats evil
2nd time - removes evil
1st time - arrived in a womb
2nd time - arrives on a cloud

1st time - left earth alone
2nd time - gathers in ALL His friends
Therefore keep watch, because you do not know on what day your Lord will come. (Matthew 24:24)
The ninth difference with Jesus' final arrival is hell or heaven, for the season of grace has closed.
Today's Soul Snippet:
Faithfulness has its own rewards.
Love this SoulSnack - PLEASE don't keep it to yourself? Would you like to subscribe for free SoulSnacks either weekly or each workday?