9 Precious Promises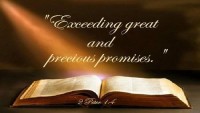 Chaotic change swirls around, then charges into all lives.
Deep waters cry out in the long, dark and cold nights for mercy. The turbulence within claims undue attention, it refuses to be jettisoned.
Such times are the best blessed opportunities to lean alone on God's words, to yet again climb that rock that is higher than I, to step behind the shield of faith, and to claim His promises.
God's promises hold firm regardless of the size of the giant, or the ferocity of the storm. He does not abandon those who belong to Him.
You know you can't slay Goliath, or quell the Mediterranean - but you do know who can.
Be still the Lord will fight for you; you need only to be still. ~ Exodus 14:14
Be strong and courageous. Do not be terrified; do not be discouraged, for the Lord your god will be with you wherever you go. ~ Joshua 1:9
Have no fear, for I am with you...for I am your God. I will be your strength, yes, I will be your helper. ~ Isaiah 41:10
A bruised reed He will not break, and a smoldering wick He will not snuff out. ~ Isaiah 42:3
When you go through deep waters I will be with you. ~ Isaiah. 43:2
...and behold, I am with you always, to the end of the age. ~ Matthew 28:20
I will not leave you as orphans, I will come to you. ~ John.14:18
My grace is sufficient for you. My power is made perfect in weakness. ~ 2 Corinthians 12:9
Never will I leave you. Never will I forsake you. ~ Hebrews 13:5
Return to your rest, my soul, for the Lord has been good to you. (Psalm 116:7)
When Jesus carries you there is no meter running.
Today's Soul Snippet:
"Humility is of the wise for wisdom preserves the life of its possessors, but pride will not release its practitioners."
Love this SoulSnack - PLEASE don't keep it to yourself? Would you like to subscribe for free SoulSnacks either weekly or each workday?