9 Verses of Comfort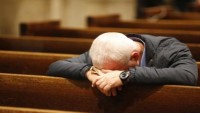 Comfort can be as elusive as love. When solace is longed for, resilience flounders.
"I've learned that sometimes all a person needs is a hand to hold and a heart to understand". ~ Andy Rooney
Jesus still offers both His hand and His heart:
The Lord is close to the broken-hearted and saves those who are crushed in spirit. (Psalm 34:18)
Cast your cares on the Lord and He will sustain you; He will never let the righteous fall. (Psalm 55:22)
Praise be to the Lord, to God our Savior who daily bears our burdens. (Psalm 68:19)
Seek the Lord while He may be found; call on Him while He is near. (Isaiah 55:6)
You will seek Me and find Me when you seek Me with all your heart. I will be found by you,' declares the Lord. (Jeremiah 29:13-14)
'Come to Me, all you who are weary and burdened, and I will give you rest. Take My yoke upon you and learn from Me, for I am gentle and humble in heart, and you will find rest for your souls. For My yoke is easy and My burden is light.' (Matthew 11:28-30)
He who comes to Me I will never drive away. (John 6:37)
On the last and greatest day of the festival, Jesus stood and said in a loud voice, 'Let anyone who is thirsty come to me and drink'. (John 7:37)
Cast all your anxiety upon Him because He cares for you. (1 Peter 5:7)
Jesus carried all your sins so He can also carry all your pain.
Draw close to Him for He loves to draw close to you.
Today's Soul Snippet:
"The more objects you set your heart upon, the more thorns there are to tear your peace of mind to shreds." ~ Charles Spurgeon
Permission is granted to reprint SoulSnacks in hard copy form, using them for Bible Studies or other Christian forums, as well as sending them to your own email lists and posting them on your own websites. SoulSupply asks only that you keep the SoulSupply website and email contact information intact.
Love this SoulSnack? - PLEASE take a moment and share it with a friend. Would you like to subscribe for free SoulSnacks either weekly or each workday?