9th Birthday Celebrations
After 9 years SoulSupply still lives its slogan. It was this faith led conviction that gave SoulSupply life:
THE IMPOSSIBLE IS AVAILABLE TO THOSE WHO RELY ON THE ETERNAL.
With the smallest of beginnings, and hidden amidst the humblest of faithful Christians, the lost, the least, the last and the lonely of South West Sydney (Australia) SoulSupply was birthed 9 years ago.
From only a local database of twenty-five recipients (using the inadequate but free email facility of Outlook Express) and only Monday SoulSnacks, SoulSupply was born.
SoulSupply first grew through the wonderful technical help of Lake Macquarie Web Design.
From 06 SoulSupply began to enjoy the gracious technical support and wizardry of Siteflex for both emails and a new website. In 08 SoulSnacks expanded from weekly to each workday. Over this time many other suites have been added to SoulSupply.
SoulSupply now reaches over 100,000 people worldwide (it is impossible to count this figure) daily and has its own database to over 30 nations.
SoulSupply continues to be very active on Social media - Facebook and Twitter with also a new premier SoulSupplyJewel Twitter account.
SoulSupply published its first book last November - "GREAT MERCY".
Below are two SoulSupply reader's testimonies:
... Bless you heaps, it is good to have encouragement and support, well done and please keep going on, stand strong, we have God on our side.
... both these span 9 years:
This soul snack has been a great turning point for me. Thank you and thank you to the Lord for your gift. As a new born again Christian seeking knowledge and learning was where I was focusing, instead of the most important thing the heart 'LOVE' and loving the Lord first and just waiting for him to change me and guide me. (SS 123/14)
BUT as they say in the TV ads ... THERE IS MORE!
SoulSupply now celebrates its 9th birthday with the re-introduction in August of fresh SoulSupply Seminars.
Making Sense of Suffering is the theme.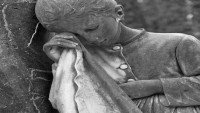 "Tears are often the telescope by which men see far into heaven." ~ Henry Ward Beecher
There are none who would not have familiarity with this subject. The details of the four new seminars are:
The Presence & Residence of Evil ~ August 10th 4pm - 5pm
The Roots & Nature of Authority ~ August 17th 4pm - 5pm
Life's most Difficult Question - am I the author of my own troubles? ~ August 24th 4pm - 5pm
Travelling in the Desert - living best with suffering.~ August 31st 4pm - 5pm
More details will be announced soon regarding these seminars, however they will all be held at the Narellan Congregational Community church in South West Sydney.
In conclusion:
a MASSIVE thanks to all who have contributed, responded, read and even spread SoulSnacks for 9 years now and equally large thanks to all who have been the faithful prayer partners, technical assistants and donors
An even LARGER thanks to my family and the board of SoulSupply for their gracious steering, commitment, guidance and counsel.
AND FINALLY THE DEEPEST of THANKS to our Lord Jesus Christ who saw SoulSupply first, called it into existence, prospered its reach, multiplied its influence and blesses SoulSupply to this very day.