A Duet of Love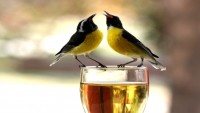 Prayer is the movement of the Holy Spirit in the human heart through which God reaches out and embraces human beings. It is a duet of love in which the action of the Spirit inspires and sustains us in the darkness of faith. It is an inward call from Christ who dwells within the depths of the human soul, and who longs to be known and loved there.
Prayer is the Father who reveals the beauty of His face to the inner eye of the heart, and the sweetness of His voice to the inner ear attuned to listen.#
Little wonder the devil shudders when a disciple bends the knee and cheers when prayer is lost.
Prayer is a son finding his father and a father singing to his son.
Prayer is a life-giving experience of how the Divine family works.
"So I say to you: ask and it will be given to you; seek and you will find; knock and the door will be opened to you." (Luke 11:5)
Don't hold back on prayer 'cos this father wants to harmonise with you.
Today's Soul Snippet:
"Ceaseless interior prayer is the continual yearning of the human spirit towards God". ~ Henri Nouwen
ENJOY another SoulSnack on prayer ~ Belting God
Permission is granted (and you are also encouraged) to reprint SoulSnacks in hard copy form, using them for Bible Studies or other Christian forums, as well as sending them to your own email lists and posting them on your own websites. SoulSupply asks only that you keep the SoulSupply website and email contact information intact.
Love this SoulSnack - PLEASE don't keep it to yourself? Would you like to subscribe for free SoulSnacks either weekly or each workday?
# The Glenstal Book of Prayer ~ (Mulgrave Victoria, John Garratt Publishing, 2001 Glenstal Abbey),11