A Parable of Simon from Cyrene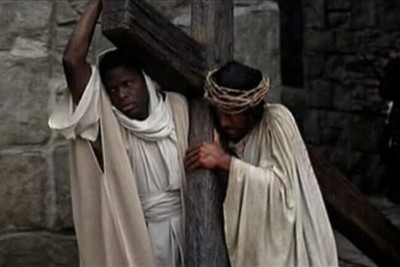 A certain man from Cyrene, Simon, the father of Alexander and Rufus, was passing by on his way in from the country, and they forced him to carry the cross. (Mark 15:21)
There is a green hill far away that our wounded savior climbed. In His desperate struggle He could no more carry that cross up the winding incline, than the seething crowd would cease to bellow crucify Him.
A dark skinned man, Simon of Cyrene was seized to bear Jesus' cross. He carried the load that God's own Son no longer could. His cross now lay upon another's shoulders, to complete this work that the Messiah was now unable to finish.
The weight of the wooden cross had been lifted from the Lord, but the far more frightening weight of our sins He still bore.
In a moment of pain-filled petulance Simon cried out this is too hard, an equally bent over Jesus straightened His back and looked across to Simon.
Their eyes met. Warm eyes met wild eyes.
A gentle gaze challenged the look of anger and resentment.
No words passed their lips. Simon of Cyrene realised he only carried Jesus' cross, but Jesus still carried his sins.
Simon was strengthened, and thought no more of his pain.
... learn from Me, for I am gentle and humble in heart, and you will find rest for your souls. (Matthew 11:29)
His gentle gaze turned away anger.
This tale is as much parable as it is fact, but the correcting peace of looking to the Prince of Peace is always true.
Today's Soul Snippet:
'The imminent return of our Lord is the great Bible argument for a pure, unselfish, devoted, unworldly, active life of service.' ~ R.A.Torrey
Love this SoulSnack - PLEASE don't keep it to yourself? Would you like to subscribe for free SoulSnacks either weekly or each workday?