A Prophet's Heartbeat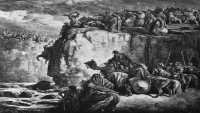 Elijah warred and then won THE victory of history against the false prophets of Baal and Asherah. (Read this full story in 1 Kings 18)
The apostles and prophets continue to this day as God's foundations for His people. But they are not found amongst the religious any more than Elijah walked with Baal's attendants. Neither would tolerate the other.
Religious systems do not need apostles for these are well established; secure in their successful past. They will not listen to prophets. Denominations are safe in their real estate portfolio, the intellectual acumen of their ruling merchants, well supported by a self-assessed and then self-affirmed righteousness.
Scan most carefully for these hidden righteous ones, the prophets. They dwell in caves and shadows, equally as unacceptable as they are unseen.
What is highly valued by God is detestable in mans' sight. (See also Luke 16:15b)
But the Lord has them rising, for they need no creeds or robes; nor will they be bound. These invisible ones aren't sought in the stadiums of Christianity for they are not there.
New apostles and prophets arise in divine power, intent to not only shake the powers of darkness, but also the time-honored, but now shadowed ecclesiastical pillars.
Apostles and prophets are recognised by their outrageous self-denial, rough clothing, simple living AND primarily the deadly disapproval of the religious.
The mantle of religious disapproval is surely the cloak of divine approval.
The apostles and prophets are first the champions who hold the Lord's presence dearer than their own ministry.
A devoted heart, strong hands & a humble soul are a mighty arsenal in the hands of the Lord; they send frightful shivers through the enemy.
Listen for the sound of hammering from the deserts afar, and the fresh faith echoes that resound from the wilderness.
The Groom is at work again building His church in new, unfamiliar places wide of the common religious mark. He employs unskilled, uneducated and unknown men.
Look for the surprising and not the zealot, for it is in him the Lord is busiest.
If it is new it may well be of the Lord; if it is old it is now simply from the Lord.
(Also see The Desert Church)
Today's Soul Snippet:
"Peaceful is the heartbeat of those who keep no record of enemies." ~ Michael Cartwright
ENJOY - 8 Tips to Recognize a True Prophet
Love this SoulSnack - PLEASE don't keep it to yourself? Would you like to subscribe for free SoulSnacks either weekly or each workday?
READ MUCH MORE PROPHECY ABOUT GOD'S ACTIVITY TODAY in "GREAT MERCY"