A Rattled Soul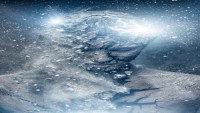 Morning by morning my feet kinda drip down the side of the mattress. This is simply a weak attempt, my swaggering start for a new day.
Each morning the Lord chooses to begin the day far more freshly with me. He has much more energy and resolve. He bounds towards me, beaming wide.
My sins of yesterday (and much longer ago) still rattle my soul and shake my spirit. Sadly my pained memory continues far more alive than my body.
BUT my Lord paints each day's canvas for me with the same originality, beauty and skill as His dawns. Jesus does not hold yesterday's sins against me. (I do - note to self; must pray on that more.)
It is from my Lord that His mercies are new every morning. They have not gone stale, met their 'use by' date or been all consumed by yesterday's sins.
I may rattle my soul but He reaches into it without condemnation; nothing more than the kind echo -
Go and sin no more for loving forgiveness is of Me.
Jesus died to remove my poor yesterdays that I may have fresh todays.
Therefore, there is now no condemnation for those who are in Christ Jesus (Romans 8:1)
Today's Soul Snippet:
"Jesus owes me nothing but wants to gives me everything." ~ Michael Cartwright
Love this SoulSnack - PLEASE don't keep it to yourself? Would you like to subscribe for free SoulSnacks either weekly or each workday?