A Stronger Prayer for the Weaker*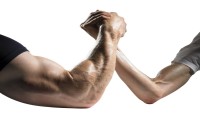 What travail did King David suffer when he penned this tenacious cry to his Lord?
What times of trouble was David so anxious would pass?
Not one is immune from the weakening distresses this monarch faced, but could all express an equal trust and thirst for God's presence during such threat?
Whether your paths are paved in smooth cobblestones or more likely with burning rocks, cast your heart high to Heaven while you fall low to your knees and with Israel's warrior King boldly pray:
Lord you are my light and my salvation – whom shall I fear?
Lord you are the stronghold of my life – of whom shall I be afraid?
One thing I ask from you Lord, this only do I seek -
that I may dwell in your house all the days of my short life and gaze upon your glory.
For in the day of trouble you will keep me safe in your dwelling,
You will hide me in the shelter of your tent, or set me high upon a rock and comfort me. It is in your presence I will sing with shouts of joy and make music to you Lord.
Hear my voice when I call; be merciful to me and answer me.
My heart screams, 'Seek your face!' Your face Lord I seek for you are still my helper.
Teach me your way and lead me upon the straight path of righteousness when my enemies assail.
I remain very confident of this - I will see your goodness in the land of the living. I want to be strong, to take heart and wait for you Lord. AMEN*
Regardless of what punctures the body or pierces the soul choose this day to ONLY lean upon the Lord, for is this not faith; a belief that neither depends upon sight or man?
Today's Soul Snippet:
"In my pocket of life, in my corner of existence - in my own odyssey there will be at least one pain I have received that will be a gain for another." ~ Michael Cartwright
Love this SoulSnack - PLEASE don't keep it to yourself? Would you like to subscribe for free SoulSnacks either weekly or each workday?
*This prayer SoulSupply has very largely taken from Psalm 27