An Everyday Prayer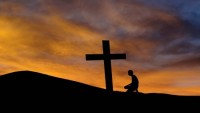 Prayer is disappearing into God, a reaching for His heart.
O Lord show me your heart and teach me to pray accordingly; open to me the things that are important to you so my prayers may not be simply consumed by the things that are important to me. Humbly I acknowledge that you alone know how to discern the important, for at best I can only guess at it if I could ever see past me. AMEN
For everyone looks out for their own interests, not those of Jesus Christ. (Philippians 2:21)
Prayer banks deposits in eternity for the profit of heaven upon earth.
Today's Soul Snippet:
"Prayer is the glue that binds earth to heaven and a disciple to Jesus." ~ Michael Cartwright
Love this SoulSnack - PLEASE don't keep it to yourself? Would you like to subscribe for free SoulSnacks either weekly or each workday?