Bombarding Me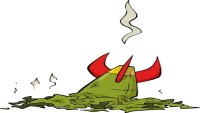 Soul Snack 65/14 ... Dear Father,
There are verdant valleys and rolling mountains before your eyes that I have never seen.
My sight is and has been clouded, indeed captured by leaking roofs and stucco housing.
Magnify my eyesight Lord to see past these clouds to what you see. I pray that I may look through your eyes alone now.
I am selfishly myopic and blindly deceived. I have been knocked sightless by bombarding pride and prosperity. Open my eyes to the vistas you know, that the charms of this world and the darkness of sin will no longer shade me from seeing your view.
My heart longs to dwell with you on earth that my sight may gaze intently upon your Crown of Life.
Tune my heart to yours so I may sing your songs and mine no longer. AMEN
Now devote your heart and soul to seeking the Lord your God. (1 Chronicles 22:19)
Today's Soul Snippet:
Righteousness today is preparation for living tomorrow.
Love this SoulSnack? - PLEASE take a moment and share it with a friend. Would you like to subscribe for free SoulSnacks either weekly or each workday?