Building God's Team - A Prayerful Paradox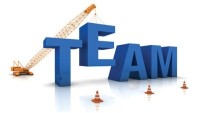 Prayer precedes performance.
We must learn how to pray and not just perform.
When prayer first becomes our profession, our planning will find the right place.
Praying is to be as comfortable as breathing, as natural as drawing breath.
Ceaseless interior prayer is a continual yearning of the human spirit towards God. ~ Henri Nouwen
Spiritual asthma is present for he who is unable, unwilling or weak in expelling prayer past their lips
One MOST important direction Jesus taught us for team building:
pray for workers, not search for them. God is both the recruiter and the sender.
Ask the Lord of the harvest, therefore, to send out workers into his harvest field.' (Matthew 9:38)
On our knees earth is raised to heaven and heaven invited to earth. Temptation and self-will are fenced out. Prayer forges a Divine dependence.
It is then from our knees the sweetest scents of praise will waft to the Throne of Grace.
Permit the Lord to do recruiting, organising, agonizing and then sending - 'cos He has invited you to do the asking.
We live, work, exist under a massive false assumption - God needs our help.
The paradox of building God's team is that no Christian can do it - all we need do is pray.
Today's Soul Snippet:
I would rather die on my knees than live on my feet.
Love this SoulSnack - PLEASE don't keep it to yourself? Would you like to subscribe for free SoulSnacks either weekly or each workday?