Coddled or Crucified?#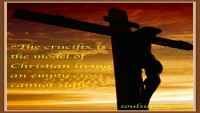 Tozer knew well the loneliness of a man who would return to Jesus what Jesus had given to him.
The way of the cross is still the pain-wracked path to spiritual power and fruitfulness... so do not seek to hide from it. Do not accept an easy way. Do not allow yourself to be patted to sleep in a comfortable church, void of power and barren of fruit. Do not paint the cross nor deck it with flowers. Take it for what it is, as it is, and you will find the rugged way to death and life. Let it slay you utterly. ~ A.W. Tozer#
He who would lift his cross travels alone. He is a stranger and a pilgrim, moving under curious and misunderstanding stares. The journey he takes is not on his feet but in his heart.
No-one is a friend to a man with a cross. ~ Tozer
... And they all forsook Him and fled. (Mark 14:50)
The crucifix is the model of Christian living, an empty cross cannot suffice.
Today's Soul Snippet:
Misery is not keen to be released and drives the soul to consider sin.
Permission is granted (and you are also encouraged) to reprint SoulSnacks in hard copy form, using them for Bible Studies or other Christian forums, as well as sending them to your own email lists and posting them on your own websites. SoulSupply asks only that you keep the SoulSupply website and email contact information intact.
Love this SoulSnack? - PLEASE take a moment and share it with a friend. Would you like to subscribe for free SoulSnacks either weekly or each workday?
#Quoted with some light SoulSupply edits from A.W.Tozer, The Radical Cross (Chicago, Moody Publishers 2015) Back Cover