Crazed Thinking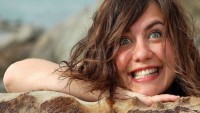 'When the whole world is running towards a cliff, he who is running in the opposite direction appears to have lost his mind.' ~ C.S. Lewis
Two thousand years ago, with a mere six bold words the apostle Peter preached and assessed his world as comfortable with sin.
Save yourself from this corrupt generation. (Acts 2:40b)
At Pentecost Peter commanded men and women to flee in the opposite direction to the world.
Carry no sin with you. Pen no treaty with it. Flee evil, but expose the deeds of darkness.
Seek Him with all your heart. Find all your satisfactions and sufficiencies in the Lord, that the match of sin lights ever fewer candles in the soul.
My flesh and my heart may fail, but God is the strength of my heart and my portion forever. (Psalm 73:26)
When we don't have enough - God always does. And, He gives too without finding fault.
I know of no other way to triumph over sin long term than to gain a distaste for it because of a superior satisfaction in God. ~ John Piper
Today's Soul Snippet:
'Until you know that life is war, you cannot know what prayer is for.' ~ John Piper
Love this SoulSnack - PLEASE don't keep it to yourself? Would you like to subscribe for free SoulSnacks either weekly or each workday?