Destination Holiness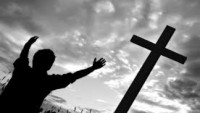 Soul Snack 220/14 ... Pulpits have dulled it and the world is silent.
What has ever become of the plea to holiness, for it is still right?
Cease the dreams that cloud the path to purity, that blind the eyes to holiness and impede the desire for righteousness.
Holiness, not impurity is the destination of all God's people; a separation from this world.
The seeking of separation is the hunger for God. It is placing the 'welcome mat' at the heart's front door.
Satan seeks to break you via sin, competing with God who wants to make you.
God's heart is always first for the seekers of Christian righteousness, not just Christian knowledge. The knowledgeable He is at best indifferent towards, for knowledge puffs up.
"My dwelling-place will be with them; I will be their God, and they will be my people. Then the nations will know that I the Lord make Israel holy, when my sanctuary is among them forever." (Ezekiel 37:27-28)
Holiness is received in God's presence, dwelling in His sanctuary; your cave of peace.
If you think you can walk in holiness without keeping perpetual fellowship with Christ, you have made a grave mistake. If you would be holy you must live close to Jesus. ~ Charles Spurgeon
God's presence is the guarantor of your holiness, for no man may travel in divine light without also seeking his own darkness cleansed.
Today's Soul Snippet:
"Religion is man's rules." ~ Michael Cartwright
Love this SoulSnack - PLEASE don't keep it to yourself? Would you like to subscribe for free SoulSnacks either weekly or each workday?