Do Not Delay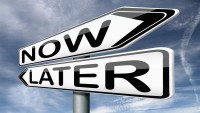 Just a simple truth or three...
Mankind lives as if he can hide from God, but this is impossible. Why then does he shrink into false shadows or hide in deep caves?
Mankind lives as if there is no afterlife - eat, drink and be merry for tomorrow we die. Why, when there is always a tomorrow?
It is an eternal constant that mans' best interest is only to follow the Lord.
To follow the Lord is to stand upon level ground even while the whole earth quakes and shakes.
To follow the Lord is to be daily led upon the righteous paths everlasting, to a rock that is steadier and higher than I. (See Psalm 61:2)
To follow the Lord is holding my left hand fast in His right hand, because I have slipped my willing palm into His open and inviting grasp.
'Come, follow me,' Jesus said, 'and I will send you out to fish for people.' At once they left their nets and followed Him. (Matthew 4:19-20)
Jesus is easy to follow for He is never hiding from those looking. His arm is always outstretched while His voice is too calling - DO NOT DELAY.
Today's Soul Snippet:
"When we put our problems in His hands, He places His peace in our hearts". ~ anon.
Permission is granted (and you are also encouraged) to reprint SoulSnacks in hard copy form, using them for Bible Studies or other Christian forums, as well as sending them to your own email lists and posting them on your own websites. SoulSupply asks only that you keep the SoulSupply website and email contact information intact.
Love this SoulSnack? - PLEASE take a moment and share it with a friend. Would you like to subscribe for free SoulSnacks either weekly or each workday?