Doubt's Envelope & Archbishop Welby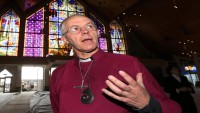 The Archbishop of Canterbury has admitted the Paris attacks left him questioning the presence of God.
"There are moments, sure, when you think is there a God, where is God?" ~ Archbishop Welby
The flagging body, the withering soul, the carnage of the world or worse still the persecution for standing as a Christian lightning rod to the faith strikes about us, can make the escape from steadfastness to Jesus appear so attractive.
Yet - suffering is no opportunity to flee a faithful Creator, but the season to continue to do good.
When the devil encircles, the hardships increase and the invitation to doubt your call, (even your position in God's family) lands in your mailbox, unlike Archbishop Welby leave this envelope sealed as you trash it - choose to:
remain true to the Lord with all your heart ~ Acts 11:23
stand fast in the grace of God ~ Acts 13:3-4/ 1 Peter 5:12
remain true to the faith ~ Acts 14:22/ 1 Peter 5:9 AND most importantly
cast all your worry onto Jesus because He cares for you ~ 1 Peter 5:7
Difficulties do not dispel your Christian faith, they confirm it.
And when the Chief Shepherd appears, you will receive the crown of glory that will never fade away. (1 Peter 5:4)
"Never doubt in the darkness what God has shown you in the light." ~ Neil Anderson
Today's Soul Snippet:
The Tree of Knowledge will lead you to doubt God, but the Tree of Life only ever confirms Him.
Love this SoulSnack - PLEASE don't keep it to yourself? Would you like to subscribe for free SoulSnacks either weekly or each workday?