For Those With Dry Bones
Soul Snack 216/14 ... Is doing church fasting and not feasting for you?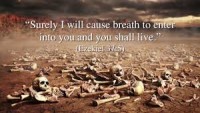 Are your bones dry and your spirit withered?
Do you attend church dutifully but still leave famished and thirsty?
Has regular worship become a wasteland to your soul?
The Lord's people are yet again in desperate need of prophets.
Prophets are God's regulators; they who hound man's false religious systems. Like-wise the Pharisees hound them.
As in the days of Jonah, the prophets are those who stay God's judgements and bellow for a throne-leaving, knee-bending repentance.
Prophets are only shackled by the Spirit of the Lord, not by any system of religion, or the approval of man. Raised on misunderstandings, rejections and being despised they are familiar with the poor response their lonely voice receives;
after all what good may come from the wilderness? How can any desert dweller be wise?
The prophets are divinely held watchman commanded to speak God's word, and to discharge their duties with faith. A true prophet is no entrant in a popularity contest anymore than the humble apostle feasts at the Tree of Knowledge.
It is the prophet who restores life to the dry bones of religion, for they deliver the Lord's breath. The prophet speaks life to the dead.
Then he said to me, 'Prophesy to these bones and say to them, "Dry bones, hear the word of the Lord! This is what the Sovereign Lord says to these bones: I will make breath enter you, and you will come to life. (Ezekiel 37:4-5)
Prophecy is God's power unto resurrection.
The religious will stone the prophets or saw then in two. Look for the dishevelled, the bleeding and the lonely man; it is who he who holds God's precious living word for God's parched people.
You will know when you have met the prophet (he who eats only from the Tree of Life) for your soul shall cheer and your ears rejoice. Dismiss him not by his appearance, but to your peril. Bless him for the life-giving Divine words he pours across your soul and spirit.
Whoever welcomes a prophet as a prophet will receive a prophet's reward, (Matthew 10:41a)
Welcome prophets for they revive the dead and your bones will be dry no more.
Today's Soul Snippet:
"The garment of sackcloth and ashes precedes the mantle of righteousness." ~ Michael Cartwright
Love this SoulSnack - PLEASE don't keep it to yourself? Would you like to subscribe for free SoulSnacks either weekly or each workday?
READ MUCH MORE PROPHECY ABOUT GOD'S ACTIVITY TODAY in "GREAT MERCY"