Hearing God's Calls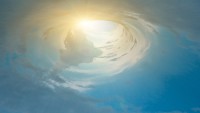 Soul Snack 95/14 ... God's voice is an infinite tent that canopies the skies.
It is also heard from a broken-man bleeding on Calvary, or a human heart that cannot rest.
The mountain-tops scream out God's good-will. There is no language where He is not heard, or tongue He cannot speak. (See Psalm 19)
Behind any voice calling out is the desire for attention.
Some people fret for they fear the voice they hear, but others will turn in joy and run toward the speaker.
God only calls people in righteousness, He can do no other. His voice is to be pursued.
God's calls are loving, personal and carry no ill-will or desire to injure.
He calls to bless, to comfort, to heal, to guide, to release, to promise and to provide purpose.
'I, the Lord, have called you in righteousness; I will take hold of your hand.' (Isaiah 42:6)
The Lord's voice unveils His rescue and freedom plans for your body, soul & spirit.
Listening to the Lord is first the choice to surrender, the beginning of submission to Him.
Today's Soul Snippet:
God made this world infinitely beautiful, but He made you infinitely precious.
Love this SoulSnack? - PLEASE take a moment and share it with a friend. Would you like to subscribe for free SoulSnacks either weekly or each workday?