Intoxicated by God ~ A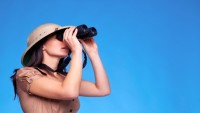 Where can I wander to, what hill may I climb, what valley descent dare I plumb where the Lord is not there?
Where can I hide my heart or file my dreams that He does not know my loves?
How high may my spirit fly or my thoughts float, that He is not still higher?
Lord, I find me in you Father - my breath, my identity, my purpose and my future. Where can I go from your Spirit? Where can I go from your presence?... for darkness is as light to you. Thankyou Lord that there is no escape from you, for if there was I would lose me too. Amen
As the deer pants for streams of water,

so my soul pants for you, my God.

My soul thirsts for God, for the living God.

When can I go and meet with God?

(Psalm 42:1-2)

Today's Soul Snippet:

"Where there is no up-building (edification) in the church, neither should you be in it." ~ Michael Cartwright

Love this SoulSnack - PLEASE don't keep it to yourself? Would you like to subscribe for free SoulSnacks either weekly or each workday?