Intoxicated by God ~ B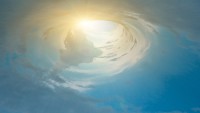 A reflective A.W. Tozer strolled through summer camp engaged in deep conversation with his dear friend Robert W. Battles - he revealed:
Junior, I want to love God more than anyone in my generation.
A further prayerful echo then:
I find me in you Father - my breath, my identity, my purpose and my future.
Without seeing and without knowing you I can only carve at best a hollow image, a mere shadow of your intentions for me. Sure there is short term breath, but there is no enduring life if I don't have you Lord. Please turn a blind eye to my resistance of you, fail to count my sins and hold them not against me, until there is nought I want but you, until the world fades within - past all life's shadows. The only flame in my heart is to be your lamp. This I seek, this I would have - there is nothing else.
Save me Lord from the seeking of vainglory, the acclaims of man. Secret me in your closet, furl your fingers safely around me that I may hide in your closed palm until we meet. Let no man know my heart, that they may only see yours in mine. May our hearts be as one. Amen
He must increase and I must decrease ~ John the Baptist (John 3:30)
Turn your eyes upon Jesus,
Look full in His wonderful face,
And the things of earth will grow strangely dim,
In the light of His glory and grace. ~ Helen Lemmel 1922
Today's Soul Snippet:
"Faith is the mortar of my life today, the roof over all my decisions and the walls that keep my enemy at bay." ~ Michael Cartwright
Love this SoulSnack - PLEASE don't keep it to yourself? Would you like to subscribe for free SoulSnacks either weekly or each workday?