It's A Long Journey Home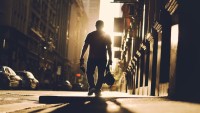 The strong and weak alike know that life's long journey requires the best food.
Two Christian giants from yesterday also knew this. This is why they are 'masters of faith'. They dined well each day.
1) Author of 'The Pilgrim's Progress', John Bunyan (1628 - 1688) spoke in truth:
I am never out of the Bible.
2) A contemporary to Bunyan, Rev. William Gurnall (1617-1679) so taught:
The Christian is bred by The Word and he must be fed by it.
SoulSupply would humbly stand beside these men of firm Christian faith with this prayer:
Dear Father,
Your Word has been, is, and will always be my very bread,
In the morning It is my sweets and the evening It is my meat,
There are no moments of my day that have not seen Your Word,
It shines in my heart,
It brightens my soul, It empowers my body, and
Fills me full with confidence.
Your Word is my fortress for tomorrow, for It is my foundation of this day,
It seeks me out, searches my heart and still won't let me go.
It does not resist my attention, and pops into the bright days or stays during the dark ones,
It surrounds me as a mighty army, protecting me from my foes.
O my Lord that I should be sufficiently attentive and humble to honor It and so honor You all my days.
Amen
To feed upon God's Word is to live upon God. It is my Lord's sweet morning manna for my journey home.
Today's Soul Snippet:
'Let prosperity be as oil to the wheels of obedience and affliction as wind to the sails of prayer.' ~ Phillip Henry
Love this SoulSnack - PLEASE don't keep it to yourself?
Would you like to subscribe for free SoulSnacks either weekly or each workday?