Jesus' 3 Top Life Tips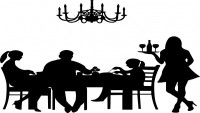 Soul Snack 223/14 ... Who wishes to sit at Heaven's eternal feast?
Surely it would be delightful to sup with the Apostle Paul, recline beside John the Baptist, or chat to Moses - the most humble man who walked the earth?
Of course there remains Elijah, your favorite missionary hero or especially the Lord Himself to share Heaven's table with, maybe even dip a sausage in a ketchup saucer for Him?
Here are three top tips for fine dining in Heaven:
Therefore, whoever takes the lowly position of this child is the greatest in the kingdom of heaven. (Matthew 18:4) ~ Become a child
Whoever wants to become great among you must be your servant, and whoever wants to be first must be your slave – just as the Son of Man did not come to be served, but to serve, and to give his life as a ransom for many. (Matthew 20:26-28) ~ Become a servant
Sitting down, Jesus called the Twelve and said, 'Anyone who wants to be first must be the very last, and the servant of all.' (Mark 9:35) ~ Become last.
It is most unusual, not common-place at all to choose to be ignored, menial or unseen!
Who would willingly permit themselves the opportunity for discomfort? The spirit of the church this age too echoes the world's; it screams - INDULGENCE & RIGHTS!
It is an affront to seek Jesus' salvation, but to not live His submission; to hunger for Glory but ignore His story.
Humility is the complete earthly diet of every true disciple that precedes the feast of Heaven.
Today's Soul Snippet:
"Blessed are the poor for they shall escape the corruptions of the earth." ~ Michael Cartwright
Love this SoulSnack - PLEASE don't keep it to yourself? Would you like to subscribe for free SoulSnacks either weekly or each workday?