Kissing-Off Judas ~ 5 More Reasons to Stand Firm#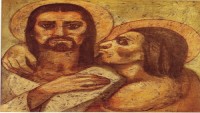 With the noose already loose around his neck Judas kissed Jesus. To this day he adds flesh to messing-up, unfaithfulness, treachery and finally lost discipleship. Judas continues in history synonymous with the most successful bad example.
I can always serve as a bad example - an aging friend would quip. His intent (unlike Judas) was to motivate (warn) others to follow Jesus faithfully, as he humbly explained his consistent and painful failures.
There is a fine line between pain or pleasure - for both are motivators.
Jesus in a vision to the Apostle John explained that the benefits awaiting the rock-solid believer are literally out of this world. He promised five more gifts in Revelation 2-3 to over-comers:
I will also give that one the morning star (Jesus promises to give Himself). ~ Revelation 2:28
The one who is victorious will be dressed in white (permanent purity).

~ Revelation

3:5
I will never blot out the name of that person from the book of life, but will acknowledge that name before my Father and His angels.

~ Revelation

3:5
The one who is victorious I will make a pillar in the temple of my God. Never again will they leave it.

~ Revelation

3:12 (Note - Judas was really a pillar of salt.)
I will write on them the name of my God and the name of the city of my God, the new Jerusalem, which is coming down out of heaven from my God; and I will also write on them my new name (belonging is confirmed and sealed). ~

Revelation

3:12
Those who would stand strong make their last works their best works. They have failed to shrink back and kept heading forward - building faithfulness upon faithfulness.
Today's Soul Snippet:
"Behind all life's battles is the wrestle to approach God's presence."
Love this SoulSnack - PLEASE don't keep it to yourself? Would you like to subscribe for free SoulSnacks either weekly or each workday?
TODAY'S SoulSnack is a sequel to Chasing Judas or 5 Reasons to Stand Firm?