Lightning Strikes of Love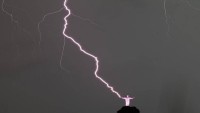 Soul Snack 202/14 ... Gathered around the Throne of Grace are ragamuffins, vagabonds and ne'er-do-wells.
With the delight that only heaven can hold the Father beams without restraint from His throne – you are my sons and daughters, I am your very proud father.
These fatherless and motherless all gathering before His throne, almost in unison tear-up. Moisture wells in their eyes as they hang their heads and collapse to their knees. They have never heard such words spoken over them before.
In their tearful humility and their broken joy, this Father's radiant eyes shoot forth lightning strikes of love as He realizes they are still unable to complete His call upon their lives.
These rascals, these refuse of the world, love Him with all the love their shrunken hearts can muster -- He knows this of course. Yet still they are incomplete, still many pieces within each of them require repair and re-assembly.
The Father then turns to His left and commissions His Holy Spirit. He says:
Fill these loved ones of OURS with US, join their cracks so that they will feel my love strengthen their weakened spirits, seal their open wounds and heal all their scars. They so fiercely want to serve us, they love us and they will not rebel. We hold their torn hearts – they trust us like no other. Speak gently, be their advocate, affirm their graces and approve their person - tell them this. Do these things for them, for they have never received such good intentions or attentions, not even from their own parents who I trusted with them.
Replace their dishonor with honor, correct their injustice with justice and fight for them before men. They need this so desperately.
Pour our healing into their spirit, anoint their soul with our love and lift their bodies with our grace. They can do nothing without us but want to do everything for us.
'But I will restore you to health and heal your wounds,' declares the Lord, 'because you are called an outcast, Zion for whom no one cares. (Jeremiah 30:17)
The love of the Lord never flees even when the approval of the world does.
Today's Soul Snippet:
"The Sabbath is an attitude of the heart, rather than a day of the week." ~ Michael Cartwright
Love this SoulSnack? - PLEASE take a moment and share it with a friend. Would you like to subscribe for free SoulSnacks either weekly or each workday?
#Today's SoulSnack is a small excerpt from SoulSupply's first book Great Mercy. This SoulSnack can also be found on MyParable.