MY Sorrow!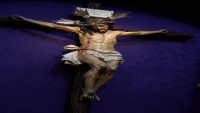 A prayer to Jesus the Christ - the one who lovingly submitted to torture before and on the Cross, even for those who hated enough to murder Him:
Dear Jesus - how did you do it?
How did you keep it all together?
Misunderstood, maimed and forsaken you carried MY sorrows.
Bent, burdened and broken under a beam too much to bear, you couldn't carry MY cross, but this didn't prevent you from carrying MY sins.
Derided, disdained and despised you submitted to worthless nails as I was worth too much to you.
Stricken by your Father, smote by your brothers, your pierced body was crushed beyond human life.
Your wounds were for MY repair.
Your suffering was for MY punishment.
Your slaughter was for MY life.
No thank you, service or devotion on MY part can ever repay.
No recompense or return can I give.
You are MY Man of Sorrows - you are MY Man of Salvation.
And you still take MY sorrows and you still keep ME in salvation.
A hollow 'thank you' is all I can say, sealed from a weak but forgiven heart that I now offer to you afresh, to do with it as you will. AMEN
He was despised and rejected by men, a man of sorrows, and familiar with suffering. (Isaiah 53:3a)
Today's Soul Snippet:
Don't make prayer a tradition of life but THE condition for life.
Love this SoulSnack - PLEASE don't keep it to yourself? Would you like to subscribe for free SoulSnacks either weekly or each workday?