Of Oaks & Diamonds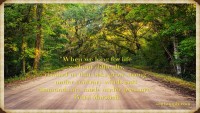 Faith waxes and wanes as the moon turns the tides.
There are wonderful seasons of strength upon the heart of faith that also become curried by times of unerring pressure.
As coal is crushed and a diamond is formed, so too the heart.
It is in the drudgery of the desert, the emptiness of the soul or the purposelessness of breath that a heart is made steadfast, or is lost.
This is divine equipping to righteousness, for oaks grow strong under contrary winds.
or a little while you may have had to suffer grief in all kinds of trials. These have come so that the proven genuineness of your faith – of greater worth than gold, which perishes even though refined by fire – may result in praise, glory and honour when Jesus Christ is revealed. (1 Peter 1:6-7)
A steadfast heart knows faith's value is beyond any measure of any man.
It has chosen the best path - the way of truth steered from a soul committed to Jesus' righteousness and fidelity.
Today's Soul Snippet:
"Grace will always be a banana peel for the orthodox foot & a fairy-tale to grown-up sensibility." ~ Brennan Manning
Love this SoulSnack - PLEASE don't keep it to yourself? Would you like to subscribe for free SoulSnacks either weekly or each workday?