Personalizing the Psalms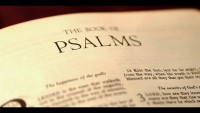 Have you ever knelt to pray a psalm, to make it your own? Countless have.
The Psalms are songs and poetry that have been used as prayers for 3000 years. They vary wildly in emotion, from the deepest lament to the highest praise.
Psalms invite the reader to not pretend before God, for they remind that nothing can be hidden from Him.
Psalms sing or mourn all that is real in relationships, all the warts and all the wonders that are life.
Regardless of how we feel, the Psalms gently usher the reader into the heaven's throne room, the Lord's presence. Thus, we are safe and led to share our entire being with Him - without restraint. The Lord becomes the reader's refuge.
The Psalms teach us to pray via imitation and response. They equip the prayerful and careful reader with clarity and care. The faint-hearted are sure to find resonance with them.
A psalm, or just a part of a psalm, may echo within the soul, the echo is the prayer. For, these are the words of the Psalmist that have drilled into the bedrock of your heart.#
My soul longs for your salvation; I have placed my hope in your word. (Psalm 119:81)
Today's Soul Snippet:
'I know of no other way to triumph over sin long-term than to gain a distaste for it because of a superior satisfaction in God.' ~ John Piper
#Today's SoulSnack is sourced from an unknown author, it contains SoulSupply additions and edits.
Love this SoulSnack - PLEASE don't keep it to yourself? Would you like to subscribe for free SoulSnacks either weekly or each workday?