Prayer's 1 Peril#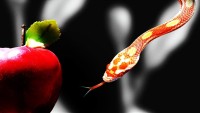 No form of selfishness is so deeply and dangerously sinful as that which glories in being a man of prayer.
To pray for the things of the flesh instead of heaven's manna is to risk God sending leanness to our souls as a result.
When self all bold and shameless follows me to the altar, kneels with me in prayer, it destroys my prayer before it is uttered. For instance - my strong desire for a new reformation within the church may be rendered void by my secret desire to be known as another Luther.
Self is the serpent in the garden of prayer.
Today's Soul Snippet:
God's grace and goodness are a Christian's common resources.
Love this SoulSnack - PLEASE don't keep it to yourself? Would you like to subscribe for free SoulSnacks either weekly or each workday?
# This SoulSnack is entirely comprised of excerpts (and SoulSupply edits) from A.W.Tozer, Keys to the Deeper Life (Grand Rapids, Michigan, Zondervan, 1984) 63-65