Prone to Avoid Sin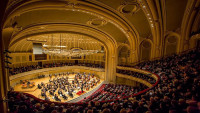 Picture heaven as an orchestra hall, and the music of its symphony as the glory of God.
Every Christian knows that faith is the pre-condition for entering that hall and enjoying that music.
But some - I fear, have gotten the notion that trusting in Christ is like buying a ticket to the orchestra hall once for all, and that you can put this ticket away in your pocket as the guarantee of your admission someday, even though the affections of your life are captured by the music of this world.
This is not the Biblical view of saving faith.
It is a delusion.#
Christian's have learned to un-fear God. Grace has been cheapened beyond the recognition of any value.
See to it that no one misses the grace of God and that no bitter root grows up to cause trouble and defile many. (Hebrews 12:15)
The God of reckoning, the day of judgement, that final sky-high assize should secure the Christian's daily attention - for a man who fears his Lord is prone to avoid all evil. (see Proverbs 16:6)
It is from the music of our Lord's grace, that a Christian in full faith chooses to flee all sin so they live a new, holy and indeed better life. (see Romans 6:1-4)
Make every effort to live in peace with everyone and to be holy; without holiness no one will see the Lord. (Hebrews 12:14)
Today's Soul Snippet:
'Only love can cover sin.' ~ John Piper
Did you find this SoulSnack helpful? Would you like to subscribe or forward it to a friend?
#Italics penned by John Piper in 'Those Who Have Faith are Sons of Abraham' - March 20 1983
ENJOY more at Foot Soldiers for Babylon & The Music of Emmaus