Soul Scaffold ~ Consolation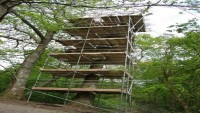 Frequently life's roller-coasters stir the soul and massage the spirit for good or for ill. These are perfect times to grab a Biblical scaffold and stay upright.
The Lord has constructed many scaffolds in His Word. Maybe the gentle thoughts to comfort, or the unshakeable promises that offer hope are His highest?
THIS IS TRUE ~ it is when a man's anxiety is great within him that the Lord's consolation brings joy to the soul. (See Psalm 99:19)
Lay hold tightly of today's scaffold, consoling promises of our Lord from Psalm 91:14-16:
"Because he loves me," says the Lord, "I will rescue him;
I will protect him, for he acknowledges my name.
He will call on me, and I will answer him;
I will be with him in trouble,
I will deliver him and honor him.
With long life I will satisfy him
and show him my salvation."
Today's Soul Snippet:
'Trials without God will break you. Trials with God will make you.' ~ anon.
Love this SoulSnack? - PLEASE feel free to share it with a friend, post it on a blog page, on a website or share it on social media.
Would you too like to subscribe for free SoulSnacks either weekly or each workday?