Soul Scaffold ~ Temptation's Wrestle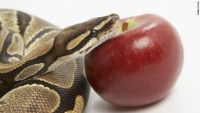 Temptation uncovers the desires of the heart.
Faithfulness reveals the strength of the heart.
The wrestles are in the middle.
When tempted, no one should say, 'God is tempting me.' For God cannot be tempted by evil, nor does he tempt anyone; but each person is tempted when they are dragged away by their own evil desire and enticed. Then, after desire has conceived, it gives birth to sin; and sin, when it is full-grown, gives birth to death. (James 1:13-15)
Reading the Scriptures is a great safeguard against sin. ~ Bishop Epiphanius of Cyprus
Today's Soul Snippet:
"The wise man will scan for God's handprints across his life - the humble will see them."
Love this SoulSnack? - PLEASE feel free to share it with a friend, post it on a blog page, on a website or share it on social media.
Would you too like to subscribe for free SoulSnacks either weekly or each workday?