Of Heaven
Soul Snack 37/13 ... Of Heaven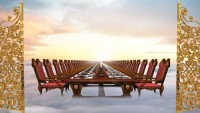 The Apostle Paul prayed with an illumined mind for he had gained a heart that visited heaven.
I pray that the eyes of your heart may be enlightened in order that you may know the hope to which he has called you, the riches of his glorious inheritance in his holy people, (Eph 1:18)
To witness what heaven holds for me is to trump all that glistens and gleams of this earth. It will dilute the desires and dull the drives for things of this world.
I will no longer work to exchange my future for my present or my labor for my desires.
I will refuse to sink my senses within indulgence or my emotions in the fleeting.
There is a dry (but delightful) carnal life as shallow as a pond. This sees no higher place, knows little of nobility and is unable to taste the delights of heaven.
To apprehend a life immersed in praise, to gain a relationship of uninterrupted love and to live in light never darkened is merely a minute entree to the feast of His glorious riches.
Why would I ever substitute the riches of heaven that are awaiting me for the poverty of earth I now hold?
Today's Soul Snippet:
"On your knees you can achieve what you could never achieve with your hands."