4 Virtues of Christmas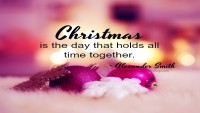 This is a simple claim "...if the world is described as a Garden of Eden it is a garden from which God, not Adam and Eve, have been banished."
On January 6th 1941 President Roosevelt very deliberately explained the fourfold gift that he wished to give to this world.
Freedom of speech and expression
Freedom for all to worship God individually
Freedom of all from want, and
Freedom of all from fear.
Yet all Roosevelt would achieve was America's entry into WWII on 7/12/1941. He had wished to bless this world, he failed. He was impotent.
God is not impotent. He does not fail. At that first Christmas Jesus entered a world awash in classical traditions, but also holding four values:
Justice
Prudence
Temperance and
Fortitude.
However in a world torn apart through selfishness, those ideals were too impotent.
The ancients held no more chance of changing this world, of adding everlasting good to it than Roosevelt - so God intervenes.
It is reasonable to expect that when God decides to act, success is assured.
This God of salvation is not impotent. Into a world of weak humanity but stronger selfishness Jesus addresses four virtues:
Faith
Hope
Charity, and
Love
Jesus offers are forever life changing. His eternal bearings steal my sights away from me, and replaces ME with HIM in me. A darn good exchange.
How does Jesus deliver these gifts to us? He does this by showing us God - the Father, His father too. Snuggling in a smelly feeding trough at that first Christmas God re-enters this world in fragile omnipotence.
As in Eden, as in today - God still longs to be with us.
'The virgin will be with child and will give birth to a son and they will call him Immanuel - which means "God is with us". (Matthew 1:23)
This newborn's gifts are potent unlike the ancients and Roosevelt. These are gifts that deliver forgiveness, but also an invitation for God to return to His world.
Jesus did not enter this world to merely change it, but to claim it.
Today's Soul Snippet:
'Prayer is the key to heaven's treasures.' ~ John Gerhard
Love this SoulSnack? - PLEASE take a moment and share it with a friend. Would you like to subscribe for free SoulSnacks either weekly or each workday?