The Autumn of the Soul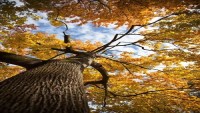 Soul Snack 48/14 ... When my leaves morph golden and fall lifeless to the ground
When my branches are denuded and my beaten boughs lose their shade
When the saplings wave defiantly at me and sway with a bold abandon ...
I then recall the gales and the thunderstorms I have weathered
I remember the blistering sunshine and the frozen dawns
I gaze at my increased girth, peering too over the gardens I shelter and the fields I shadow
My sight is excellent for I am very tall, my vision clear, and strength remains in my healthy trunk.
HOWEVER - I consider my faithful duty upon earth to shelter and shade as now naught, when reckoned against my reach for the heavens.
Since, then, you have been raised with Christ, set your hearts on things above, where Christ is, seated at the right hand of God. (Colossians 3:1)
The things of earth will grow strangely dim in the light of His glory and grace ...
Today's Soul Snippet:
A life without love is a life lost.
ENJOY~ The SOUL 101
Love this SoulSnack? - PLEASE share it with a friend. Would you like to subscribe for free SoulSnacks either weekly or each workday?