The Beauty of Grace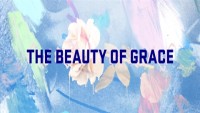 Am I correct? ... The people most likely to turn up enthusiastically to a school reunion are those who have 'made good' in life.
Could I be correct again? ... Unwittingly these are often the very ones who make it hard for those who feel they haven't made good - to want to come.
this is just another reason to be thankful; it is we who are Christian that reunite in heaven on the basis of what Jesus has done, not what we have done.
That's the beauty of grace - it makes life unfair. It creates winners out of losers without making them the kind of winners you'd want to avoid.
What's also interesting is that the only way one can fall from grace is to return to climb the slippery slope of self-righteousness again.
One might say that grace is not what you fall from, it is what you fall into.#
For it is by grace you have been saved, through faith – and this is not from yourselves, it is the gift of God – not by works, so that no one can boast. (Ephesians 2:8-9)
Today's Soul Snippet:
'The Christian is more formed from his trials than from his enjoyments'. ~ William Jay
Love this SoulSnack - PLEASE don't keep it to yourself? Would you like to subscribe for free SoulSnacks either weekly or each workday?
#Today's SoulSnack comes from an unknown source with SoulSupply edits