The Conquest of Darkness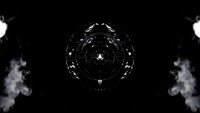 It is by God's light I will walk through darkness. (Job 29:13)
Many sit in a salutary darkness and ponder:
when will the light flick on - I can't even see the light switch?
Reach out into the darkness and put your hand into the hand of He who stills the storms.
In the darkness choose a soft heart to the Lord.
The darkness prepares me to obey God. For, it is there hidden and alone a man makes God his refuge. He decides what is truly important to himself. The body maybe 'imprisoned', but the heart can always flee to heaven.
Even in darkness light dawns for the upright. (Psalm 112:4)
Job - By His light I walked through the darkness.
The descent into the darkness is the battle for spiritual conquest. For is not darkness the host to spiritual thirsts?
Micah - Though I sit in darkness, the Lord will be my light.
Shine like stars in the universe as you hold out the word of eternal life.
John - The light shines in the darkness, but the darkness has not overcome it.
Never doubt in the darkness what God has shown you in the light. ~ Dr. Neil Anderson
How weak does foul darkness become when His servant has learned to sing in its rains. ~ Michael Cartwright
Remember the days of darkness, these are God's torturous lessons to take with you when He returns you to the light.
Recall the days of darkness that you may keep humility and live with purity in the new light.
In the darkness permit its suffering to become your educator, not your enemy. The darkness is to be endured and not fled, for it is under that darkness the faithful learn to sow a harvest of righteousness.
When a train travels through a tunnel and it gets dark, you don't throw away the ticket and jump off. You sit still and trust the driver all the more. Trust no matter how dark your situation. God still says - you are coming out. Paradise awaits you. ~ anon
Today's Soul Snippet:
'God would sooner we had holy pain than unholy pleasure.' ~ anon
ENJOY too - The amazing meaning of life
Love this SoulSnack - PLEASE don't keep it to yourself? Would you like to subscribe for free SoulSnacks either weekly or each workday?