The Desert of Bitterness ~ LOVE & HEALING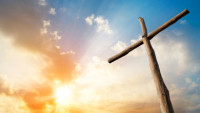 #Bitterness slams the door on tomorrow today. But Jesus knowing Judas' betrayal and all its promised bitterness still cleansed filthy dust from His betrayer's feet.
There is value from the pain of bitterness. There is a wonderful, cleansing resurrection strength for those who persist in the wrestle.
God's highest goal for me is conformity with Christ. God heals me so He can form me to Christ. And, sometimes He reverses that process; He conforms me to Christ so He can heal me. ~ Francis Frangipane
A meagre sweet supply of water becomes an abundance when the bitter pool is first healed to become a sweet pool. This is applying the Cross to the pools of bitterness - choosing for forgiveness, the rejection of resentments, appropriating Christ's work to both the heart and then mouth.
But He was pierced for our transgressions, He was crushed for our iniquities, the punishment that brought us peace was on Him, and by His wounds we are healed. (Isaiah 53:5)
Love is perfected when I deliver my desires over to death for the sake of Jesus. The cross is soaked in the blood of love, not the blood of bitterness - cover the bitterness with the Cross. Love and bitterness are not bed partners.
TAKE CARE OF YOUR THOUGHTS WHEN YOU ARE ALONE & THEN YOUR WORDS ARE SAFE WHEN YOU ARE WITH OTHERS.
Bitterness can erase ease - not the injury. It is the healing balm of Christ's presence that removes wrong, for He alone is the great healer of men's hearts.
Jesus knows YOU, and YOU know He has sweetness for YOU awaiting.
O my Lord, thank you for the eternal power of the Cross, the love that invites victory. Please Lord uproot every bitter weed within me that my heart may hold grace, and my lips may speak it. AMEN
Today's Soul Snippet:
"Your absolute greatest asset is your Christian faith, for it carries all your tomorrows. Never exchange it for the sorrow's of today".
# Read also the Introduction to The Desert of Bitterness,
The Desert of Bitterness - RESCUE,
The Desert of Bitterness - MULTIPLICATION
The Desert of Bitterness - TESTING
The Desert of Bitterness - A TRANSFORMING TIMBER
Love this SoulSnack - PLEASE don't keep it to yourself? Would you like to subscribe for free SoulSnacks either weekly or each workday?