The Heart 1st Knows
A.W.Tozer (1887-1963) lived for a supernatural Lord with the warm candles of intimacy lit by enduring devotion. As a God-besotted prophet Tozer lives well beyond his time, because lovingly he sat with the Lord and gazed into His heart.
Aiden Wilson Tozer's caravan was His prayer closet, he travelled life in it. Tozer could pen these brief thoughts because his heart first felt them: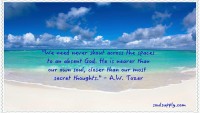 From one man God made all the nations, that they should inhabit the whole earth; and He marked out their appointed times in history and the boundaries of their lands. God did this so that they would seek Him and perhaps reach out for Him and find Him, though He is not far from any one of us. (Acts 17:26-27)
God is as close as our heart.
Today's Soul Snippet:
"I get out of balance when I look to my past for it seeks to steal my future."
ENJOY another Tozer inspired Soul Snack ~ 5 Steps to a Deeper Faith
Love this SoulSnack - PLEASE don't keep it to yourself? Would you like to subscribe for free SoulSnacks either weekly or each workday?