The Lighthouse Cradle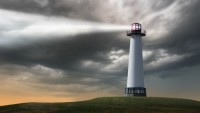 Soul Snack 238/14 ... Beacons are sentinels for safety and comfort. They warn the wayfarer, the ignorant and the weary of danger.
A lighthouse offers cheer to the lost.
This piercing light is the time honored guidance penned upon the sky - travel safely.
Christmas is God's annual beacon, written too in the skies. It is His lighthouse beaming across a world that approaches ship-wreck.
Christmas is a divine bidding not to be dashed upon dangerous worldly shorelines. It is heaven's succor to earth.
Christmas shines brightly from the only God of Heaven to all, for we must navigate through life. It lights the western world for a month each year.
Are we not all seafarers, navigating life's shoals and shallows?
The babe of Bethlehem peers up from the cradle and beams:
I still love above the rejection,
I still see through the storms,
I am still available when others aren't,
I am not remote when you are lonely,
I still give peace within when wars rage and
I have always acted for your well-being.
Two millennia ago heaven's beacon first glowed from the straw of a manger. God set this straw alight as He switched on the Light of the World. Burning brightly it remains the place of both comfort and warning for all who will follow its shafts of light.
Yesterday's bright light continues as today's best beacon to travel life safely.
The true light that gives light to everyone has come into the world. (Jonn 1:9 - SoulSupply ed.)
Today's Soul Snippet:
"There are no worn out lives when there are worn out knees." ~ Michael Cartwright
....................................
Give the gift this Christmas of strengthened and informed faith through modern Christian parables ... 'GREAT MERCY' - just click the BUY NOW button.
Only $13.95 for the softcover and $29:95 for the hardcover.
Don't forget a FREE SoulSupply 2015 Calendar (with each hardcover order) and FREE Postage worldwide for purchases made on or before December 15.
Love this SoulSnack - PLEASE don't keep it to yourself? Would you like to subscribe for free SoulSnacks either weekly or each workday?