The Measure of Christ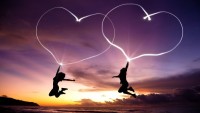 Soul Snack 60/14 ... Past all desolations, wars, resentments and rejections - love will survive.
It is the fluid that caresses difficult relationships, easing them into pleasant ones.
Love is life's lubricant to an abrasive world that creaks and grinds.
It is a flame retardant for when sparks fly.
Love is the blanket to mourning, and exists beyond the grave.
It is the rail-track through hardship, and should also be the berth for prosperity.
Whose life can you make more pleasant by a dollop of love?
Those who have hurt you have the greatest need of love, for they will reap what they have sown.
The measure of Christ is always first living love, not merely learning about it.
Love that is learned but not lived cannot be love at all.
We love because He first loved us. (1 John 4:19)
Today's Soul Snippet:
"Love gives itself; it is not bought."~ Henry Wadsworth Longfellow
Love this SoulSnack? - PLEASE share it with a friend. Would you like to subscribe for free SoulSnacks either weekly or each workday?