The Returning Star#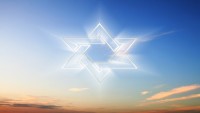 Soul Snack 241/14 ... 2,000 years after the Babe of Bethlehem was hunted by King Herod and wiser men by pursuing a star, the "Star of David" appeared yet again.
In 1948 the Star of David marked another birth, as the national flag of the newly birthed nation of Israel! It represents the unshakeable covenant promise of God; His unbreakable promise that He will have the last word.
With this, has the history of the star ended?
No, that would be too little - the greatest fulfilment is still to appear. Just as the foreigners from the Orient were set in motion for their journey to the City of David by the star all those years ago, so shall it be for us today.
The great finale of our times awaits - the return of Jesus, the appearance of the Messiah.
In the last chapter of the Bible Jesus encounters us with His final "I am..." statement. He testifies to who He is:
"I am the Root and the Offspring of David, the BRIGHT MORNING STAR." (Revelation 22:16)
"Where is the newborn King of the Jews?" were the first words for Jesus.
As every tongue confesses and every knee bows the last words will be "Jesus is Lord".
The Bright Morning Star will enter again to shine when night is at its darkest.
Today's Soul Snippet:
"Christmas proves to all that God is not inactive nor has He spoken in secret." ~ Michael Cartwright
#Today's supplied was originally penned by Sr Joela Krueger's in her leaflet "Alert to the Rising Star" - Published by the Evangelical Sisters of Mary. It is reproduced and edited with kind permission.
Love this SoulSnack - PLEASE don't keep it to yourself? Would you like to subscribe for free SoulSnacks either weekly or each workday?