The Son Shone No More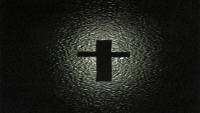 Fear arrived at noon.
The crucifixion flicked earth's light switch off.
"... for the sun stopped shining." (Luke 23:45)
As the light of the world hung dying, the light in the world too died.
Crouched in their humble houses or crowded on this menacing hillside, dread crept into Jerusalem's own.
Darkness until 3 p.m. was surely terrifying?
Jesus - the unknown and the unaccepted had now become the unseeable.
His own people did not want Him. Darkness had arrived - for to reject Christ is to invite darkness. Light lost is darkness found.
In His very next gasp Jesus released His spirit.
Darkness nor light can coexist - where Jesus isn't, there can only be darkness. When Christ is absent darkness must replace light.
2000 years ago, the sun stopped shining yet the evidence of darkness remains strong.
Light is always superior.
Soon the Light of the World returns to claim this world of darkness. This is easy for Jesus as He has come once already.
Both the sun and The Son rose again, and both still shine today.
No matter how dark the darkness Turn your eyes upon Jesus for He is shining now.
O soul, are you weary and troubled?
No light in the darkness you see?
There's light for a look at the Savior,
And life more abundant and free.
Turn your eyes upon Jesus,
Look full in His wonderful face,
And the things of earth will grow strangely dim,
In the light of His glory and grace.
Today's Soul Snippet:
Jesus will never hold yesterday against us when we want Him today.
Love this SoulSnack - PLEASE don't keep it to yourself? Would you like to subscribe for free SoulSnacks either weekly or each workday?
"LISTENING to JESUS" ... 2016 Lay Ministry Convention - Book Here