The Tethering of the Mind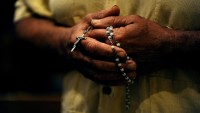 When my mind is soaked in a weakness (or my soul is crushed) I am unsure whether the sage rules the silly, or the silly rules the sage. What malaise could I end up in?
The battle for the mind is equally the battle for the soul, for they are as one the same. BUT NOTE -
where the mind looks the body will soon follow.
It is in his weakness that a man sees his thirsts, both the wicked or righteous thirst alike. And so the body rises in steadfastness, or collapses in despair.
The activity of the mind first forms the activity of the body.
For as man thinks in himself, so he is. (Proverbs 23:7)
The manager of the mind is largely a man's emotions.
Dwell upon the Lord and His righteousness, that the mind may lay down in glorious places. Then the body will recline beside quiet waters. As with Noah - when the mind sends out peace so shall peace return to it, yet with that extra olive branch as well.
Is not peace its own multiplier?
The mind can place the distressed beside still ponds, slaves upon powerful horsebacks, or tether princes to mute posts.
Finally, brothers and sisters, whatever is true, whatever is noble, whatever is right, whatever is pure, whatever is lovely, whatever is admirable – if anything is excellent or praiseworthy – think about such things. (Philippians 4:8)
Today's Soul Snippet:
'Praise God for the hammer, the file and the furnace'. ~ Samuel Rutherford
Did you find this SoulSnack helpful? Would you like to subscribe or forward it to a friend?