Tuning the Harp for the Teary & Weary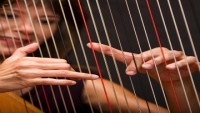 Pressed under grief Job cried out:
My life ebbs away; days of suffering grip me ... I go about blackened by the sun ... my harp is tuned for mourning. (Job 30:16, 28, 31)
Job and suffering are universally synonymous.
Job had lost all, then his few 'friends' criticized him without grace, mercy and truth. They found fault and sin in him. They chastised him for his suffering, but it was a bargain struck in the heavens.
Below are four briefest thoughts to re-tune the harp of any and every Job today:
1) "Weaknesses and failures are not things to be despised but well-lit paths straight into the arms of our Lord". ~ Ashley Cleveland
*****
2) "You can't compare your insides with everyone else's outsides". ~ Brennan Manning
*****
3) "God loves you unconditionally, as you are and not as you should be - because nobody is as they should be". ~ Brennan Manning
*****
4) "He who comes to me I will never drive away". ~ Jesus the Christ
*****
A bruised reed He will not break, and a smoldering wick He will not snuff out... (Isaiah 42:3)
Today's Soul Snippet:
Jesus died to replace human distance with Divine presence.
Permission is granted (and you are also encouraged) to reprint SoulSnacks in hard copy form, using them for Bible Studies or other Christian forums, as well as sending them to your own email lists and posting them on your own websites. SoulSupply asks only that you keep the SoulSupply website and email contact information intact.
Love this SoulSnack? - PLEASE take a moment and share it with a friend. Would you like to subscribe for free SoulSnacks either weekly or each workday?