Waiting in Pain?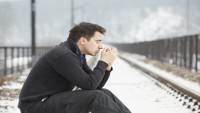 Soul Snack 212/14 ... Where there is waiting there is something to hope for.
A man unaccustomed to grooming (even his rough beard was combed) stood before me. He shuffled his near shiny boots for forty-five minutes. With an equal restlessness the best man stood beside him, where was the bride, was she even coming?
Waiting has become the common occupation of lives attacked by countless conflicting and yet legitimate interests.
The waiting room is usually the dwelling place of good anticipation. The dentist may provide relief from the aching tooth, or a doctor give sound advice. The imperative of the waiting room is to remain patiently and not flee or the gains will be lost.
It is from God's waiting room that I too receive betterment for in it:
I move from who I made me to be, to whom God made me to be. He is ever so patient and gentle. God exercises such care that He refuses to rush me, and maybe cause me injury.
Yes, waiting can be tiresome and painful, but it is also a divine hiding place for me; safe from the further injuries of the world.
Now here is the leap of faith for those waiting, longing for a Divine intervention and goodness to return:
No matter how painful the delay is, God's waiting room is always the place of God's favor.
Blessed are they who wait upon the Lord (Isaiah 30:18)
Recall His promises, lay hold of them for they are your lifeline. Remember the God who owns all time and does not take back His words. God is faithful and cannot deny His faithfulness. Neither does God forget His words to you, so your waiting will NEVER be in vain.
Though it tarries God's goodness shall surely come and will not delay. (See also Habakkuk 2:3).
There remains hope, for the destination is still worth the difficulty of the journey.
Today's Soul Snippet:
"The Man of Sorrows died for the men of sorrow." ~ Michael Cartwright
Love this SoulSnack - PLEASE don't keep it to yourself? Would you like to subscribe for free SoulSnacks either weekly or each workday?
ENJOY ~ Waited too Long?